Equipment & Facilities: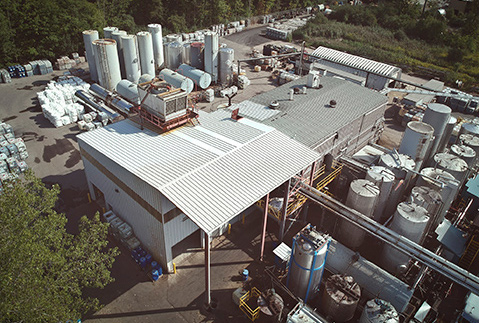 6 High Temperature Stainless Steel Reactors
3 glass lined Sulphonic Acid Reactor
High efficiency low CO2 emitting energy plant
State-of-the-art Part II Blending station
Multiple Mixing Vessels for No-Bake Resins
150,000 sq ft of warehousing (7 total)
6 Loading docks / Bulk loading stations
215,000 gallon of Bulk Tank Storages
2 'In-Process' Laboratory Sites
On-Site Cooling Towers and Chillers
Drum filling and IBC (Tote) filling stations
On-Site Maintenance – Machine Shop
Plant Runs 24 hours, 6 days a week
On Site Engineering Department
2 R & D Laboratories
Ultra Pure Water Facility For Inorganic Chemicals Mixing
Our Locations:
We are active in more than 18 countries and have a talented group of professionals and distributors who are dedicated to working with our customers
In addition to our Corporate Headquarters in Niagara Falls, Canada we operate subsidiary companies for regional manufacturing and warehousing supply.
Our regional network of facilities provides technical service, manufacturing, offices and warehousing to bring unmatched service and expertise to our customers and partners around the world.
MANCUSO CHEMICALS de MEXICO S. de R.L. de C.V.
MONTERREY, MEXICO
MANCUSO CHEMICALS de MEXICO S. de R.L. de C.V. es un centro de distribución que provee localmente los productos de Mancuso Chemicals para Fundicion, incluyendo Resinas y catalizadores para los procesos Autofraguantes, Furanico/Acido y Fenol-Uretanico, Caja Caliente, y Caja Fria Fenol Uretanico.
Adicionalmente se incluyen tambien pinturas refractarias, pegamentos, desmoldantes, limpiadores y otros productos auxiliares.
MANCUSO CHEMICALS SUDAMERICANA S.A.C.
LURIN, PERU
Inauguración en 2019 de nuestra oficina principal de 10,000 m2 en Lurín, Perú. Con la presencia de importantes proveedores y representantes de empresas en Sudamérica.
Almacén principal de 2.000 m2 para el suministro de productos importados. En la misma locacion se esta construyendo una planta de Manguitos de ultima tecnologia. El suministro de productos esenciales para Fundiciones es abastecido desde:
MANCUSO CHEMICALS Ltd. (Canada)
Allied Minerals (EE. UU.) Productos refractarios, incluida la producción in situ de moldes preformados cocidos a alta temperatura para las industrias de fundición, minería y acero
ENVOY ENTERPRISE (Taiwán). Consumibles para fundición.
Oficina principal, área de operaciones, laboratorio. Totalmente capacitado para brindar servicios técnicos, diseños y soporte para una amplia variedad de proyectos industriales.
Distribución de equipos de alta tecnología para fundiciones que incluye: hornos, cucharas/cucharones, maquinaria y una gran variedad de equipos industriales. Representantes exclusivos en Perú de TINKER OMEGA MANUFACTURING. Ofrecemos mezcladores, equipos y sistemas de recuperación de arena, equipos de laboratorio, entre otros.
FOUNDRY CHEMICAL SYSTEMS S.A.
SANTIAGO, CHILE

FOUNDRY CHEMICAL SYSTEMS S.A. – Es comercializador de Productos de Mancuso Chemicals, que cuenta con una variedad de productos químicos industriales para Fundiciones, incluyendo Resinas y catalizadores para los procesos Autofraguantes, Furánico / Ácido y Fenol-Uretano, Caja Caliente y Caja Fría Fenol Uretano, pinturas refractarias, pegamentos, ferroaleaciones, inoculantes, materiales cerámicos, secadores desecantes, desmoldantes, limpiadores, entre otros productos auxiliares.
Sales representatives are available at each location to provide on site technical service.
In the USA we are represented in the Pacific Northwest region by Northwest Industrial and Foundry Supply.
Most of the rest of the USA is covered by Refcotec, INC with a team of professionals dedicated to the foundry resin business.
Distribution of our foundry products in New Zealand is through DKSH Performance Materials New Zealand Limited.
We're turning local insights into global solutions.
Use our contact page and we will get you moving.
ANNOUNCEMENT – ACQUISITION OF ALPHA RESINS LLC, DETROIT, MI,
The products and technology of Alpha Resins, a Subsidiary of Covia Holdings LLC, were purchased by Mancuso Chemicals Ltd and it's partner, Refcotec Inc. (Orville, OH), in 2021.
The day to day operations of manufacture, distribution and testing of all resin products has been fully incorporated into Mancuso Chemicals Niagara Falls facility.
Ongoing supply and service of Alpha Resins Products will be handled through Refcotec Inc.  – https://www.refcotec.com/